About Wild Heart

Wild Heart has been around since 1993 (see History), with our existing lineup in place since late 2009. It's been a great run and we remain great friends, but the band is ending in late September 2015 so that individual members can go some different artistic directions. See the NEWS page for details.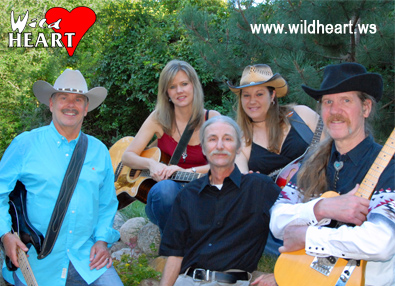 Left to right: Jefferson (Jeff Root), Tracy Jane Comer, Siggy (Mark Sigwald), TC (Theresa Peart), Preacher Man
Archival info:
We are very excited about our current lineup (see Bios), which enables us to bring you an unbelievable array of today's hottest country hits with many textures including full harmonies, fiddle, mandolin, keys, plus acoustic and electric guitars, bass, and drums. How do we do all of that with just five people? Well... visit our BIOs page to read about our multi-talented members!
It is evident that Preacher Man, TC, Tracy Jane, Siggy and Jeff feel the excitement and have a blast each time they perform. And the fun is infectious...just ask some of our fans!
---
Background: Wild Heart exploded onto the music scene in 1993 when right out of the gate we won pickoffs, battles of the bands, played festivals and shared the stage with national acts such as Ricky Van Shelton and Hal Ketchum. Since then, we have traveled the state to become a regional favorite on the festival stage and are equally comfortable performing for community events or at the local hang out. [More...]