About Wild Heart | History | Press Kit
Meet the Members of Wild Heart!
TC (Theresa Peart)
Lead and backing vocals, mandolin, keys
TC has one of the strongest and sweetest voices we've ever heard and she is constantly surprising us with her musical intuition and ability to bring a song home. She's been associated with a family karaoke business, so she cut her teeth getting the crowd fired up and singing what ever songs she wanted. Turns out...country is her thing!
TC won the first Q106 RISING STAR competition back in 2005 and performed at the Taste of Madison in 2005 and 2006 and this lucky girl got to hang out with Dierks Bentley for a bit.
TC's first band was an all original band named Confection and that's where she began writing lyrics. Before joining Wild Heart in 2009, her most recent project was singing with JC and Kid Sister.
TC and Tracy Jane also perform as an acoustic duo on occasion. See separate website for Acoustic Alloy.
---
Tracy Jane Comer
Lead and backing vocals, acoustic guitar, fiddle, keys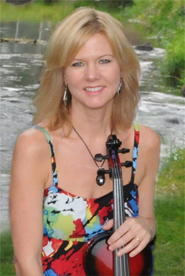 Tracy Jane is the newest member of Wild Heart, having joined in January 2010.
An award-winning singer-songwriter and multi-instrumentalist (6 and counting), Tracy Jane hails from North Carolina but is no stranger to the Madison music scene. She has been performing solo or as duo (with Randy Green), trio, band or with several side projects since 2000 and has made dozens of appearances on local radio and TV. She has earned numerous international and local honors, including several from the Madison Area Music Awards such as INSTRUMENTALIST OF THE YEAR award in 2008, plus nominations as BEST ACOUSTIC ARTIST (2004, 2005), BEST ACOUSTIC ALBUM (2004, 2005), FOLK/AMERICANA ARTIST OF THE YEAR (2007), FOLK/AMERICANA ALBUM OF THE YEAR (2010), JAZZ ALBUM and JAZZ SONG OF THE YEAR (2010).
Tracy has published several CDs of original music in several genres (folk, adult contemporary, jazz). Her music has been heard on MTV plus hundreds of radio stations on four continents, and she was featured in the June 2009 issue of GUITAR PLAYER magazine. She has toured in more than a dozen states and has opened shows for national acts including Willy Porter, Dar Williams, The Wailin' Jennys, Holly Near, L.J. Booth, Ellis Paul, Peter Mulvey, Nathan Rogers, and many others. She still peforms occasionally on her own in addition to her work with Wild Heart. You can read more about Tracy at www.tracyjanecomer.com.
Tracy Jane and TC also perform as an acoustic duo on occasion. See separate website for Acoustic Alloy.
---

The Preacher Man
Lead and backing vocals, electric and acoustic guitars, mandolin
The Preacher Man has been with Wild Heart from the beginning, way back in '93. Over the years he's made plenty of friends and given plenty of his own brand of "spiritual advice" (as in 90 proof!).
If you've followed the band, you've seen him play acoustic guitar, steel guitar, lead and rhythm guitar, and even a harmonica once in a while. And of course he's always been there helping out with backing vocals and singing lead on a number of tunes.
---
Jefferson (Jeff Root)
Bass and backing vocals
In additon to playing bass and occasionally lending back-up vocals, Jefferson does the booking for Wild Heart. Back in the early '70s he played in Moebius, a road band that toured across the US and also wrote much of its own music. That band shopped its album of original songs to major music labels in California and that propelled Jeff's interest in writing and recording.
In the '80s Jeff started the band the Collectors and that band produced a song that was nominated for a WAMI song of the year award but lost out to the Violent Femmes.
Over the years he's enjoyed performing with many great musicians and bands playing covers and original songs including Preacher Man who he met and joined up with back in the early '90s. "We were in an all original recording band called One Ton Tomato together and as you can probably guess...It wasn't Country." They kept in touch over the years but didn't get back to playing together again until the timing was right in 2002 when Jeff was looking for a new band and Wild Heart was looking for a bass player.
---

Siggy (Mark Sigwald)
Drums, vocals
Siggy was recruited into Wild Heart sometime back in '95. Sitting behind his ever changing kit, Mark is the "heartbeat" of Wild Heart and keeps things "in the pocket."
Together with Jeff Root's phenominal "in the groove" bass playing, they make a formidable rhythm section. In addition, as a rare treat you might just even hear Siggy sing a song now and then.



Tom Furan
Sound & lights for most shows
Tom Furan has been in the music business for over 30 years, first as a musician playing guitar, harmonica, and vocals in many local bands, and now as a provider of sound reinforcement and lighting. He hooked up with Wild Heart in 2003 after a six year association with Mason Dixon. Your ears are in for a special treat when he's at the board! Tom also owns and operates TOM'S ELECTRONICS in Janesville. If you are in need of some new PA gear or have any problems with TVs, antennas, or sound equipment, give him a call at (608)774-8477 for a free quote or advice.