About Wild Heart | Bios | Press Kit
Wild Heart: A History Lesson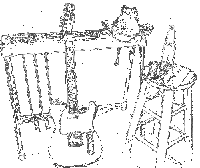 Here is where tribute is paid to all of the great musicians who have contributed to this journey we call Wild Heart. We'd like to give you a better feel of who we are and where we are coming from.
Life is change, and the "alumni" listed below certainly are evidence of that. Without exception, all have gone on to perform and enrich all of us with their music and talent. Hopefully we've got the facts mostly right. The rest you can simply chalk up to folk lore and the influense of our good friend Jack Daniels. Enjoy...
[For CURRENT group info see: About Us | Bios | Press Kit]
---
1992 - Long time friends and former rockers Preacher Man on guitar and Craig Radi on bass, get together to record a half dozen original "country" tunes. They have so much fun that they enlist fellow musicians Mark Schultz on drums and Pete "Petey" Davini on keyboards and perform their originals at the Q106 Pick-Off as Virgin Timber.They come in dead last (everyone else played covers :-), but this would set the stage.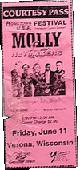 1993 - Wild Heart is formed consisting of Virgin Timber's Preacher Man, Craig, and Mark, along with Tim Heintz on lead guitar, and Carmel Willet on vocals. The band opens for Molly and the Heymakers for it's first gig and again later on June 11th at the Hometown U.S.A Festival. Other major shows that year include On The Water Front.

1994 - Stephan Lipps replaces Tim. Wild Heart wins the Q106, Manawa, and Taste of Madison band competitions. Major shows include the Hodag Country Festival, opening for Ricky Van Shelton at the Dane County Fair, opening for Hal Ketchum at the Manawa Lions Country Show, and a weekend at the Mole Lake Casinos.


1995 - Stephan heads for Texas and Pat "No Hat" Sieben step in. Wild Heart opens the Star Spangled Celebration in Richland Center with headliner The Bellamy Brothers.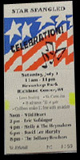 1996 - Carmel and Mark leave to start a new project, and Mark "Siggy" Sigwald comes in on drums. Later that year Dan "Perfessor" Bono is added on keyboards. The band plays a second year at the Star Spangled Celebration, this time opening for Lisa Brokop, Daryle Singletary, and Aaron Tippin. A monster storm cut's Aaron's set short.

1997 - Andy "Gonzo" Gonzales joins as lead vocalist. Later that year Jay Sabatier replaces Pat. Jay gets baptised into the band when they open for Sawyer Brown at Beloit's Riverfest.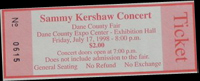 1998 - Wild Heart wins the Q106 Pick-Off and again heads to the Hodag. Later they open for Sammy Kershaw at the Dane County Fair and played several festivals including the Oregon Summer Fest.

1999 - Michael Tully replaces Jay. Ashley Rose replaces Andy and later wins MCMA Female Vocalist of the Year. Wild Heart plays the Barneveld Lua, Madison Raceway, Black Earth F.D., Oregon Fest, Monona Grove Fest, Deerfield F.D., Trek Bicycle, Harmony Grove Fest, and Taste of Madison.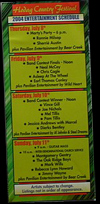 2000 - The band plays several festival dates including Harmony Grove Fest, Delavin Fest, and Taste of Madison.
2001 - The band plays "unplugged" at the MATC Mitby Theater opening for Nickel Creek. Later in the year Ashley leaves to prepare for a music career in Nashville. Craig and Michael also leave to pursue new projects. Steve Becker joins on steel guitar and Shawna Moore takes over on lead vocals and bass.
2002 - Shawna leaves and is replaced on bass by Jeff Root. Andy Gonzales rejoins on vocals. Major apperances include the Taste of Madison and Monroe FD.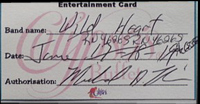 2003 - Andy leaves and is replaced by Mick Howen. The band reprises performances at Oregon Fest and Monroe FD, as well as beginning a run of shows at Ho-Chunk Casino.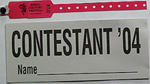 2004 - Mick leaves and Michael Tully returns on both lead guitar and lead vocals. Once again the band wins the Q106 Pick-Off and places second at the Hodag state competition, as well a performing an evening show there. Rick's Cafe calls Pick-Off #18 "A New Kind of Country" where cowboy hats were replaced by NASCAR ball caps (hah!!!). Later that summer they open for Julie Roberts at the Dane County Fair with an "unplugged" set. This year begins a long and successful series of shows at Isle of Capri Casino, and is capped of by a New Years show at Christmas Mountain.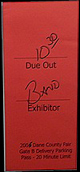 2005 - Michael leaves and Rebecca "B-Rae" Doran joins as vocalist. Albany Street Fest, Monona Fest, Columbus Fest, St. Albert's Fest, Middleton FD Festival, and Marshall Fest host performances by the band. Another "unplugged" set is performed at the Dane County Fair and again the band ends with a New Years show at Christmas Mountain.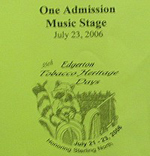 2006 - The Perfessor leaves and Wild Heart continues as a five piece. Appearances include Edgerton Tobacco Heritage Days Blanchardville FD, Reeseville Celebration, Columbus Fest, Jefferson Fest, Pardeeville Celebration, Hollendale FD, Edgerton Tobacco Days, and Marshall Festival.

2007 - Wild Heart plays 74 shows including appearences at a MAMA Benefit, Lodi St Judes Benefit, Brat Fest, Angel Park Speedway, Mt Horeb Frolic, St. Johns Parish, Capital Brewry, Blanchardville FD, Columbus Firemans Park, Monona Fest, Hollandale Fest, Beaver Dam Lake Days, Black Earth Music in the Park, Taste Of Madison, Marshall Mania Days, and ending with New Years at the Monona Terrace.

2008 - This is pretty much a reprise of 2007. B-Rae caps off the year by wining the MCMA Female Vocalist of the Year.

2009 - Steve and B-Rae leave. Carmel Willet returns and joins vocal forces with new member Theresa "TC" Peart. The band performs "unplugged" live on Q106 9:20 Session. Festival appearences include Marshall Firemans Fest, Beaver Dam Lake Days, Black Earth Park Festival, the Taste of Madison, and Mazo Wild West Days.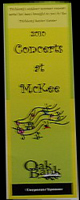 2010 - Carmel leaves and Tracy Jane Comer joins as vocal and multi-instrumentalist. The band kept a busy schedule including performances at Bratfest plus community festivals in Black Earth, Fitchburg, and New Glarus.

2011 - Wild Heart had a very active year at some of our favorite venues plus some new ones. Wild Heart won the popular vote contest to return to the Fitchburg Concerts in the Park Series. Wild Heart also was nominated for BEST COVER BAND in the 2011 Madison Area Music Awards, and was also nominated for BEST LOCAL BAND by Star Country 93.6 in their Country Music Awards.
For the rest of the story you'll need to roam around our site. Try visiting our GALLERY, ABOUT, BIOS, and NEWS pages. Yeeee Haawwwww!